Busting myths, not balls, about vibrating rings
By SS
When someone says 'cock rings' in bed what do you picture? A version of kinky jewellery? Or your penis' version of The Conjuring?
Please let your fears know that there's nothing to feed on this buffet. Cock rings A.K.A vibrating rings are possibly the safest pleasure things you could wear on your penis during sex.
So let's establish some facts about vibrating rings before we dive into the how-tos, shall we?
a. Myth: Vibrating rings stop blood flow to your penis.
Fact: Umm, hell no. It only slows the blood flow down. This helps in prolonging sensation in your penis. No pleasure object wants to choke your penis to death. Please don't believe your anxieties. They lie.
b. Myth: A vibrating ring can only be used during penetrative sex.
Fact: Not at all! You can use it during penetrative intercourse, of course. But also when you masturbate or when you receive oral sex. If you're really into experimenting, it's even a good companion for anal play. Vibrating rings are multi-taskers.
c. Myth: A vibrating ring is made solely for your pleasure.
Fact: Not to bust your.. well, balls, but vibrating rings are specifically designed to enhance female pleasure through you. It's a great philanthropic service if you ask me. The various modes of vibration when you wear the ring can stimulate the erogenous zones like the clitoris or the clitoral hood on a woman's vulva, enhancing her pleasure just as much as yours. Maybe, even more than yours (if you aim to please.. Pro-tip: Please be generous.)
d. Myth: You can only use it on your penis.
Fact: Once again, surprise! You could slip it over your fingers too while giving a hand job or while providing clitoral pleasure with your fingers. Vibrating rings like Skore's Buzz are designed with a waterproof, soft silicone body that make it very adaptable to using them in different ways and for different types of pleasure.
Now that we've gotten some myth-busting out of the way, let's talk about why you'd wanna use them in the first place.
The answer is.. Why not?
Sex toys do not fill in a void or inadequacy in bed. They only support play and pleasure. Like Jane Fonda's character in the Netflix show Grace and Frankie says while selling vibrators to men, "This is not your foe. Men and vibrators are like cake and pie. And women like dessert." Well, the vibrating ring goes one step further and serves dessert on a platter for two.
Because of all the shame that society conditions men to feel for valuing healthy, communicative desire, it's understandable that you might hesitate before indulging. But when you decide to play a little with things like vibrating rings, you realise that there's a reason "society" is so stuck up. It never had an orgasm. Or even a dance. But you and your partner certainly can eat your cake and have it too (with pie).
Here's how:
Skore's Buzz vibrating ring has multiple vibration modes. Slide the circular ring over an erect penis, making sure that the bump of the ring is facing forward. (Remember remember, the ring is designed to elevate clitoral pleasure, so during sex, the bump in the ring stimulates the clitoris, increasing your partner's pleasure). Make sure the ring is at the bottom of your penis' shaft.
Fun tip: if you turn the bump to face the back/ downwards, it accelerates your testicles' pleasure.
Press and hold the ON button on the side of the ring to switch it on. Thankfully, Skore's Buzz comes with a remote control that can change the modes of vibration. Easy access is the name of the game.
However, you could certainly do some thoughtful preliminary things before you slip that ring on, gentlemen.
1. Please make sure any pubic hair around your scrotum isn't likely to get stuck on the ring. We recommend cleaning the area up before putting your play hats on.
2. You know what goes hand-in-hand with a vibrating ring? Toy-safe lube. It just makes the whole process of slipping the ring onto your penis a lot easier, and more importantly, friction-free. Skore has some fun toy-safe lubes for you to begin with. Check them out.
But like I said, slipping a vibrating ring over a penis is not the only way to enjoy Buzz. You could easily slip it over a dildo or even over your tongue to enhance oral sex for your partner.
An extra-spicy idea: If you like experimenting with a vibrator, then you could slip the vibrating ring over the vibrator and play around with the vulva. As far as I know, no one who likes themselves has ever complained of "too much pleasure".
Irrespective of how you choose to surprise your partner with Skore's Buzz, please remember to be safe and wear a condom.
In a post-pandemic world, if we're all stuck in our bedrooms, we might as well make it worth our sex lives' while.
Recommended Products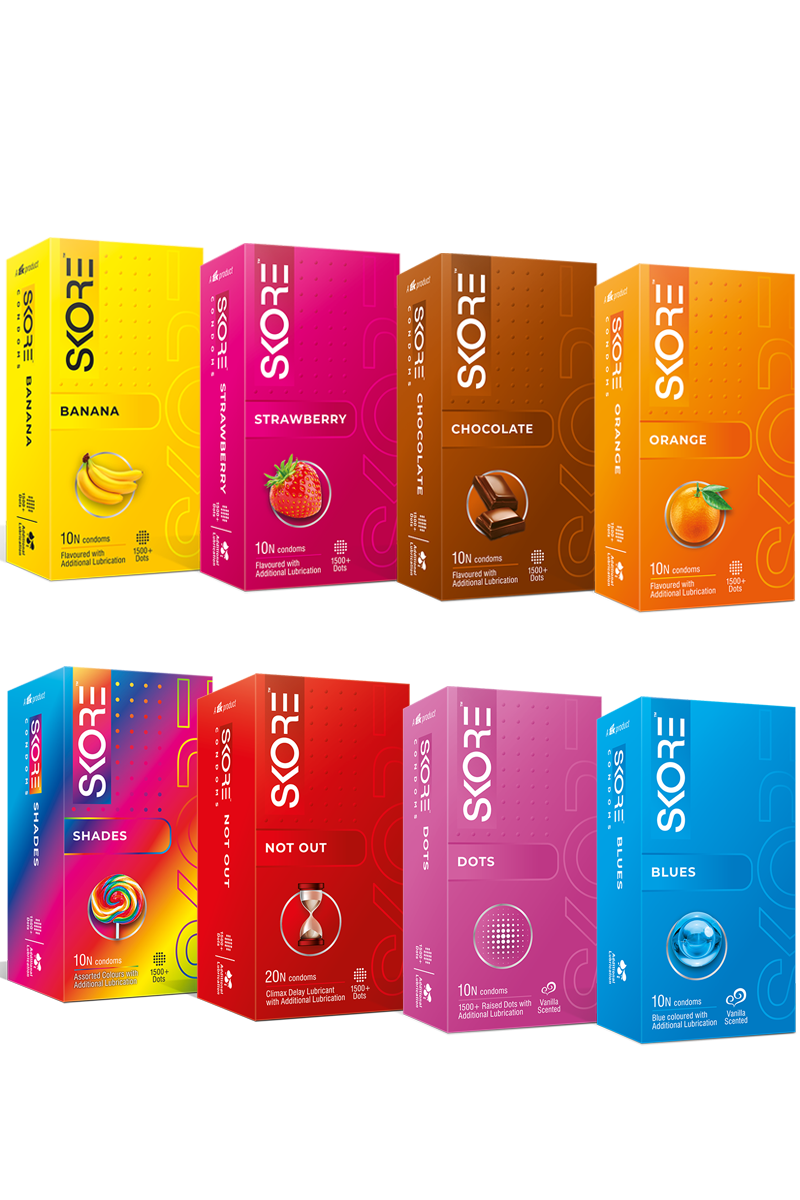 SKORE ADVENTURE PACK 8 packs(80 pcs)

Not out, Chocolate, Strawberry, Shades, Orange, Banana, Dots, Blues
Explore and discover a whole world of adventurous pleasure right from within your bedroom. The adventure pack from skore lets you scale the heights of passion and dive into the depths of ecstasy. 
Recommended Products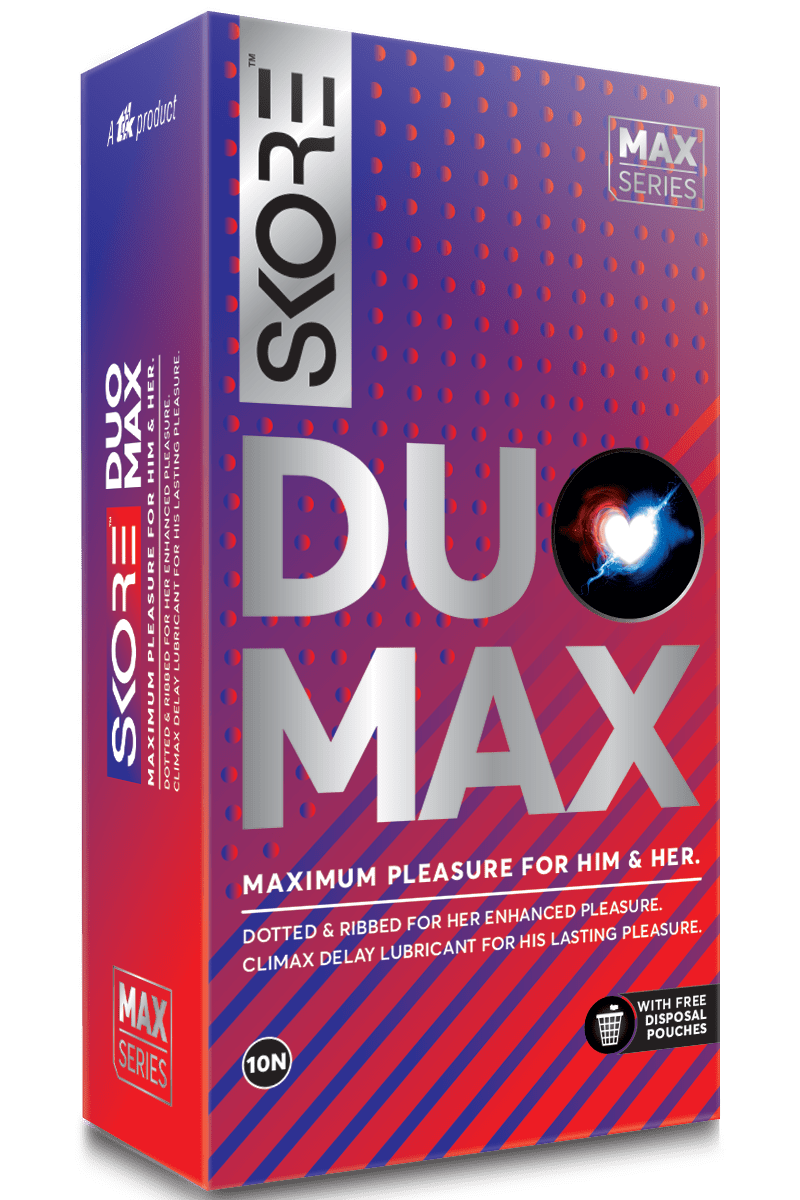 Duo Max Condoms 1 pack (10pcs)

Presenting Duo Max from Skore with climax delay lube for him and dotted & ribbed texture for her. Giving him more time. And taking her less time. For the two of you to experience an all-new sensory explosion together. And what's more, it comes with a convenient disposal pouch that makes it easy-to-use as well as easy-to-throw.