Skore Cherry Flavored Lubes
Set the sheets aflame with your passion as you surrender to the heady flavour of cherries. Dribble a few drops of SKORE cherry flavoured Lube.
Lubes Cherry - 50ml 1 Bottle
Set the sheets aflame with your passion as you surrender to the heady flavour of cherries. Dribble a few drops of SKORE cherry flavoured Lube.
01.

Why should I use Lubes?

Let us be honest. When it comes to sex, wetter is better. SKORE Lubes allows you to spice up your sex life by helping you navigate tight spaces easily. We especially recommend using them for your foreplay sessions, often an ignored part of your time in the sheets. Trying difficult positions, experiencing different sensations like cool and warm or even experimenting with flavours, SKORE Lubes make sure that you have a great time, every time.

02.

Are Lubes safe to use with condoms?

Not only can SKORE Lubes be used with condoms, we highly recommend it. They are the perfect combination like Batman and Robin. Or if you are not into superheroes, think chai and biscuits. Our water based lubes are best experienced with the wide range of SKORE Condoms. A few drops of lubes onto the condoms work like magic and make sure that sex is more pleasurable for both partners.
Ashik Mohan Awesome Experience
Amazon Customer Easy to use
SUVANKAR SEN Nice smelling, water based and really pleasing for self loving and as a moisturizer
Thank You for reviewing us.
How It Works
01

Remove the cap by pulling it upwards.

02

Push down on the top of the bottle with your fingers.

03

Smooth the lube wherever you like.

04

Use more whenever you feel the urge.
You May Also Like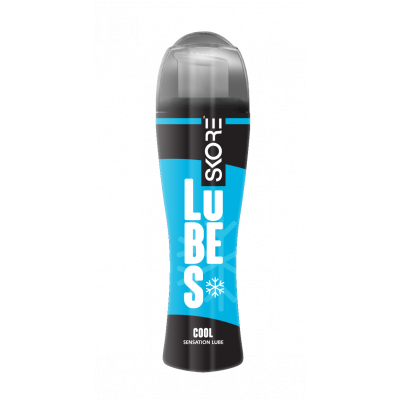 Lubes Cool - 50ml 1 Bottle

MRP (incl of taxes)
Special Price
₹270.00
Regular Price
₹300.00
Chillout with SKORE Lube Cooling as the action heats up. Splash a few drops onto the body and enjoy the cooling sensitivity. A moisturiser intended for all over body application. SKORE Lubes moisturises and eases dryness.
Sexual lubricants such as Cherry Lubes from Skore makes sex enjoyable because it eases penetration by reducing friction and providing adequate wetness. It's time to step out of the box, and experience elevated pleasure with wet, fluid, unobstructed, and long-lasting sex.
There are various types of lubricants. Water based sexual lubricants are the most widely available. Oil based lubes are used for those who wish not to use condoms, because this type of lubricant might cause the condom to become inelastic and tear. Silicone-based sexual lubes last longer because the silicone is not absorbed by the skin.
What are the various types and categories of sexual lubricants?
Lubes can be classified broadly into vaginal lubricants and anal lubricants. Vaginal lubes reduce dryness in the vagina during intercourse. Vaginal lubricants are recommended even by doctors for those trying to conceive. Anal specific lubricants are for use in anal sex. More often, an anal lubricant has more thickness than water-based lube. An anal lube may have special numbing agents that reduce the pain or discomfort during the act.
What are the top reasons to use lubes?
Versatility
Cherry Lubes from Skore can be used any time during sex, including masturbation. Buy Cherry Lube online and use it every time you are ready to crease the bed with your partner. Using lubes is encouraged because it reduces friction, increases hydration of the skin, prevents micro wounds, and gives no chance for skin breakage. Applying lubes whilst using a sex toy is also recommended.
Enhanced pleasure
Lubes provide wetness and make the lubricated skin supple. When penetrating, the pleasure is exemplified using lubes because of reduced friction. It becomes easy to perform the sexual activity without constantly worrying about dryness.
Reduces vaginal dryness
There are several factors which can lead to dryness while having penetrative sex. Hormonal changes, increased stress levels, menstrual cycle, what medication you are on are certain things that can influence the dryness. So, using a lubricant during these times is the ideal way to have fulfilling sex.
Safety
Lubes are absolutely safe to use on Vagina and penis. The natural lubricants help partners in foreplay sessions, often an ignored part of your time in the sheets. Splashing few drops of Skore Cherry lubes onto the condoms will make sure that partners experience heightened pleasure and helps to spice up the sex life.
Highly recommended for anal sex
Using lubes for anal sex is not only a great idea, but a bare necessity. The anal region does not provide natural lubrication like the vagina, so it is important to use a lubricant.
Is cherry lube edible?
Skore lubes, when swallowed, is unlikely to cause any irritations. Just that even if they enter the bloodstream, it is safe. Cherry lubes have a distinct flavor that makes the experience of tasting them quite engaging. Skore lubes such as Cherry lubes not only moisturize the vaginal region, but enable the other person to give oral sex despite the presence of the lube's extracts.
Where to buy sexual lubricants?
Buy Cherry Lube online from Skore – the world's premier online sex products retailer. Dipped in the flavor of cherries, the lubricant emanates a pleasant odor, in addition to being flavorful. The lube will ease your movements, ignite your senses, and equip you with enough energy for journeys of passion between those blankets.
Frequently Bought Together
×