Skore Strawberry Flavored Condom
Sweet strawberry brings new taste to your lovemaking with its flavour and colour. Dotted texture steps up your excitement like never before.
Strawberry Condoms 1 pack (10pcs)
Sweet strawberry brings new taste to your lovemaking with its flavour and colour. Dotted texture steps up your excitement like never before.
01.

Are condoms effective against HIV and other sexually transmitted infections (STIs)?

Condoms provide protection against HIV and other STIs. In fact, it is the only contraceptive method that provides STI protection. Imagine Superman, but without the Kryptonite. That's how you feel while using a condom.

02.

How are condoms tested?

From electronic testing, the water leak test, air burst test and strength test, condoms undergo a range of tests. These are conducted by dedicated regulatory agencies as well as condom manufacturers so that you can go about skoring without any worries.

03.

Are condoms fragile or delicate?

No. In fact, thousands of videos online will tell you we are not kidding. To make sure that they are strong, durable and stay intact, condoms go through rigorous testing of quality at each and every step of the manufacturing process. Therefore, unfortunately, you can never use this as an excuse for not using protection. All you need to do is make sure that you keep your condoms in a cool, dry place and not in your wallet for long periods of time.

04.

Can I reuse a condom?

No. Also, eww. Every time you have intercourse, use a new condom. Does not hurt to experiment with different types either.
Raja Smooth
Gireesh Good fit for size
Anupam Anand very strong strawberry smell. makes mood.
Thank You for reviewing us.
How It Works
01

Take care when handling the condom to avoid unintentional damage. Make sure to check the expiry date before using.

02

Squeeze the teat at the end, to remove any air and leave enough space for semen to be caught. Then place the condom on top of the erect penis.

03

Roll the condom down to the base of the penis. Check for comfort — condoms that feel too loose or tight may lead to breakeage.

04

Remove the condom soon after ejaculation. Place the used condom in a bin. Do not flush down the toilet.
You May Also Like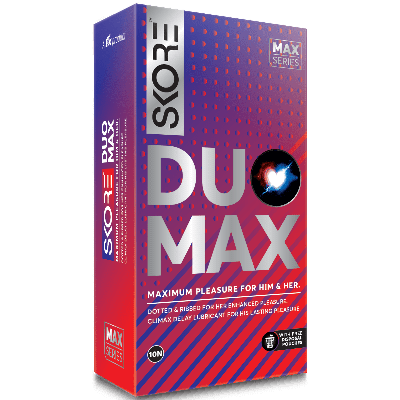 Duo Max Condoms 1 pack (10pcs)

MRP (incl of taxes)
Special Price
₹225.00
Regular Price
₹300.00
Presenting Duo Max from Skore with climax delay lube for him and dotted & ribbed texture for her. Giving him more time. And taking her less time. For the two of you to experience an all-new sensory explosion together. And what's more, it comes with a convenient disposal pouch that makes it easy-to-use as well as easy-to-throw.
You May Also Like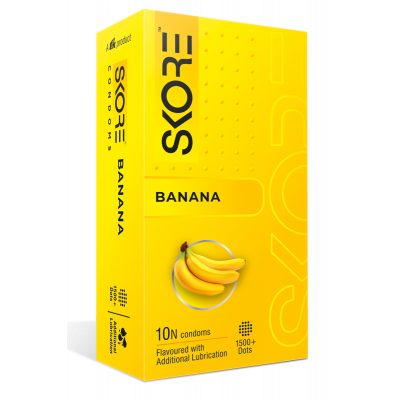 Banana Condoms 1 pack (10pcs)

MRP (incl of taxes)
Special Price
₹102.00
Regular Price
₹120.00
Score as you play the game of love with SKORE Condoms. Your lovemaking becomes more special with its fruity Banana flavour. To add to your pleasure you have dotted texture and cool colours.
Bring A Dose Of Fun With Our Strawberry Flavoured Condoms
If you feel that it is time to introduce more fun element to your lovemaking, then adding a flavoured condom can be a great idea. Take Skore's Strawberry Flavoured condoms for instance. The intense flavours of strawberry in the bedroom can act as the push you need to get started with your foreplay! It will make the endgame be filled with ecstasy and wildness for sure.
How To Use Strawberry Condoms?
Wearing and using any of Skore's condom variants is as easy as pie. To wear Skore strawberry condoms, take the condom out of its individual packet and press its tip between your forefinger and thumb to check whether you are wearing it on the right side. Next, wear it so that it reaches the end of the penis. There should not be any air inside the condom because if there is, it may split and render it ineffective. After use, dispose of it by throwing it in the trash bin.
Why You Will Love It?
Skore Strawberry Flavoured condoms enhance sexual pleasure by bringing in more romance to lovemaking sessions between couples. The smell of strawberry can act as an aphrodisiac as you are treated to a lovemaking session that will make your partner moan with pleasure. Heighten the sexual act by making the most use of these lovely condoms!
Why Skore Strawberry Flavoured Condoms?
The more the senses are heightened, the better the sex is. That is why our Strawberry Condoms are such a hit with the Indian public. Most people love the smell of strawberries because it is sweet and intense. With our offering, you can now get this heady mix of flavours in your bedroom. It heightens both of your senses and increases sexual pleasure. You can expect a whole of moans and cries of pleasure emanating from the bedroom when you use this!
Buy The Best Strawberry Flavoured Condoms Online
Why go anywhere else when you can shop for strawberry condoms online at Skore's website? Skore makes the process easy and stress-free and you will have your order delivered in discreet packaging straight to your doorstep.
Other variants from our flavoured condom offerings range are:
Chocolate
Banana
Cherry
Pina colada
Orange
Frequently Bought Together
×