Skore Ylang Ylang Lubes
Let a few drops loose on your skin and tighten the seat- belts, on your pleasure trip. The heady flavor and invigorating fragrance of Ylang Ylang takes you to unexplored levels of two- player game
Lubes Ylang ylang - 50ml 1 Bottle
Let a few drops loose on your skin and tighten the seat- belts, on your pleasure trip. The heady flavor and invigorating fragrance of Ylang Ylang takes you to unexplored levels of two- player game
01.

Why should I use Lubes?

Let us be honest. When it comes to sex, wetter is better. SKORE Lubes allows you to spice up your sex life by helping you navigate tight spaces easily. We especially recommend using them for your foreplay sessions, often an ignored part of your time in the sheets. Trying difficult positions, experiencing different sensations like cool and warm or even experimenting with flavours, SKORE Lubes make sure that you have a great time, every time.

02.

Are Lubes safe to use with condoms?

Not only can SKORE Lubes be used with condoms, we highly recommend it. They are the perfect combination like Batman and Robin. Or if you are not into superheroes, think chai and biscuits. Our water based lubes are best experienced with the wide range of SKORE Condoms. A few drops of lubes onto the condoms work like magic and make sure that sex is more pleasurable for both partners.
Thank You for reviewing us.
How It Works
01

Remove the cap by pulling it upwards.

02

Push down on the top of the bottle with your fingers.

03

Smooth the lube wherever you like.

04

Use more whenever you feel the urge.
You May Also Like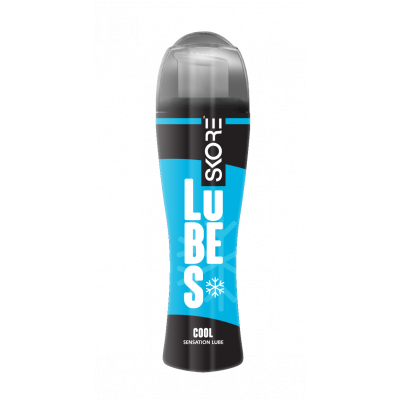 Lubes Cool - 50ml 1 Bottle

MRP (incl of taxes)
Special Price
₹270.00
Regular Price
₹300.00
Chillout with SKORE Lube Cooling as the action heats up. Splash a few drops onto the body and enjoy the cooling sensitivity. A moisturiser intended for all over body application. SKORE Lubes moisturises and eases dryness.
Let a few drops loose on your skin and tighten the seat- belts, on your pleasure trip. The heady flavor and invigorating fragrance of Ylang Ylang takes you to unexplored levels of two- player game
Frequently Bought Together
×