Oh! Gel - 15ml 1 pc
With a special formula to increase sensitivity of her intimate areas, SKORE OH! Is designed to intensify a Woman's climax. Now you can experience 28 Big Ohs in a bottle.
Oh! Gel - 15ml 1 pc
With a special formula to increase sensitivity of her intimate areas, SKORE OH! Is designed to intensify a Woman's climax. Now you can experience 28 Big Ohs in a bottle.
SKORE OH is a water based orgasm gel for woman that creates a multi-sensational experience and brings the most intense orgasm one has ever experienced with the greatest of ease.

The clitoris and surrounding area are the most sensitive part of a woman's body as it has more than 8000 nerve endings. Skore OH when applied on the spot causes one to experience an orgasmic rush of heightened sensations. It feels deliciously stimulating and makes the area more responsive to touch and movement. Once applied, the female partner should start feeling a tingling, warming, and cooling sensation either straight away or within a couple of minutes. The sensations last between five and 20 minutes.

SKORE OH is easy to use. All one needs to do is to squeeze a small amount of it from the detachable pump and onto your fingertips and gently massage on the clitoris. You will feel a tingling and cooling sensation either immediately or after a couple of minutes. SKORE Oh can be used before and during sex. Simply wash off to remove.

04.

How much one should apply?

Skore OH typically contains 15 applications. Just a small amount of the product works wonders. Don't be afraid to use it as many times as you want. Too much of SKORE OH can only mean one thing, and that is a whole lot of orgasms.

05.

Is Skore OH Gel to be applied inside the vagina?

It is not meant to be applied or inserted inside the vagina. Skore OH is a orgasm gel and is meant to be massaged gently on the clitoris, situated at the outer surface of the vagina. If you are still not clear on the exact location of the clitoris, head on to the Naughty Chapters to know more.

06.

Can it be easily washed off?

It is water based and hence can be easily washed off. It is also non-staining and so doesn't leave any stain.
Ram Prasad Very nice product
K Absolutely recommended
Sukanya This works like a charm. Extremely happy
Suddha Best product this. Will definitely buy more
Thank You for reviewing us.
How It Works
01

Twist the bottle to open

02

Push down on the top of the bottle with your fingers.

03

Apply onto your intimate areas.

04

Use more whenever you feel the urge.
You May Also Like
Zigzag Condoms 1 pack (10pcs)

MRP (incl of taxes)
Be a true champion of the game of passion, with SKORE Condoms Advanced Range. The SKORE ZigZag Condom with its unique ribbed and dotted texture, in a patented ZigZag pattern, enhances your pleasure and also heightens your lover's sensory experience.
You May Also Like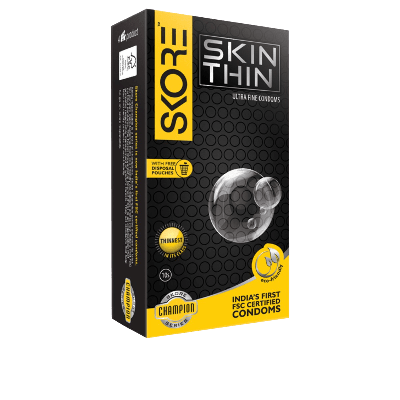 Skin Thin Condoms 1 pack (10pcs)

MRP (incl of taxes)
Play the game of passion with the finesse of a true champion, with SKORE Condoms Advanced Range. Skin Thin, the thinnest condom in its class, let's nothing come in between you and your lover. What's more! It comes with a special and easy-to-use disposal pouch.
You May Also Like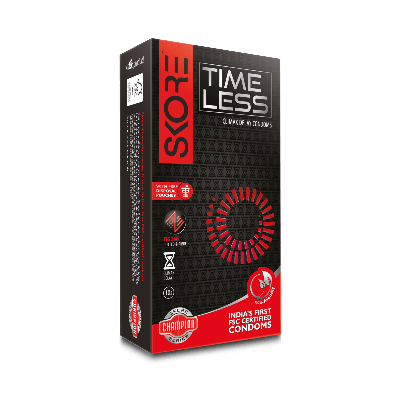 Timeless Condoms 1 pack (10pcs)

MRP (incl of taxes)
Keep up the score in bed like a true champ, with SKORE Condoms Advanced Range. Its specially formulated lubricant helps you delay your climax, combined with its unique ZigZag pattern of Ribs and Dots that lets you drive your partner wild.
Orgasm gels or pleasure gels stimulate the clitoris and several other surrounding areas to produce heightened sensation in women during sex.. This product works by stimulating the nerve endings of the vaginal region. The area becomes responsive to any kind of touch or movement. That's why many women use pleasure gels from trusted brands. Skore Gel for Her is the best orgasm gels for long-term use as its is absolutely natural and safe.
Why use pleasure gel for women
Skore OH pleasure gels produce a range of benefits. Skore OH gel products increase the body's ability to produce natural lubrication by increasing the sensitivity of the areas. The person experiences mixed sensations of warmth, coolness, chillness, and airy-ness in these areas. The pleasure gel has anti-bacterial properties owning to the presence of aloe vera. The presence of aloe vera along with several other organic compounds makes Skore Oh! Gel a safe product to use.
Not only are harmful pathogens cleared off the area, but the aloe vera hydrates the skin and makes it supple and receptive for sensations. The use of an orgasm gel eases penetration and produces an orgasm by putting both people at ease. Because of the comfortable movements, and easy process that the gel facilitates, attaining multiple orgasms is possible. The Skore OH! orgasm gel also has a pleasant odor and is flavorful – which makes it as good and as natural as body fluids.
How to use Skore OH Pleasure Gel?
Squeeze the detachable pump of Skore oh gel. Apply a small quantity on your fingertips. Massage the gel into your vaginal regions. Immediately, you will feel tingling and coolness in the massaged and nearby regions.
This will be a cool sexual ceremony to do by both partners – one that is erotic and increases the mercury levels inside the room. The gel assimilates into the skin easily. Being water-soluble it is safe and harmless. It's as good as the body's natural moisture. You may need to apply it periodically - you will do it out of pure joy instead of compulsion.
Benefits of Skore OH Pleasure Gel
Skore Oh gels stimulate the nerve endings around the clitoris and vaginal regions. When the pleasure gel is applied, there is a rush of blood to these regions. So instead of relying on mood, time, and reason – just get into the groove and get it done easily, naturally, and pleasurably.
Buy Skore OH Pleasure Gel Online
Skore OH orgasm gel can be purchased from the Skore online store. Make your purchase, squeeze some, and start your high drive! Use Skore Gel for Her without waiting for the right time, season, occasion – make this very moment yours!
Frequently Bought Together
×