If there's anything that lies at the foundation of BDSM, it is TRUST.
The idea is that when you place absolute trust in your partner and get past the possibility of harm, it can result in rattling erotic experiences.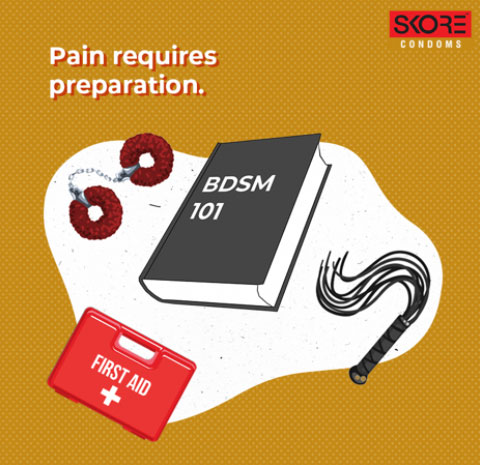 What is BDSM?
Contrary to what most believe, BDSM does not always involve sex. It is an intense bodily experience that includes Bondage and Discipline (B&D), Dominance and Submission (D&S), and Sadism & Masochism (S&M). Your definition of the activity can fall in any combination of these.
It usually involves playing around with sensual accessories such as whips, cuffs, chains, bondage, and the like. But when we talk of dominance, it doesn't always have to be rough and kinky. Many believe in what is known as 'sensual dominance', which can involve a variety of toys and plays without any pain.
Rules of the Trade
Before you cut to the chase, make sure that both you and your partner are well-versed with these rules!
1. Take it Slow
Remember the first time you had sex? That same intimacy applies here! BDSM is a wide network of countless activities. Overindulging into the mix might lead to significant harm for yourself and/or your partner! The trick is to always take consent before you explore.
2. Negotiate Roles Beforehand
Always refrain from making on-the-spot decisions, especially if you are indulging in power-play (anything along the lines of master and slave)! Decide on the complete roadmap of the 'scene' (yes, that's actually what it is called), including the foreplay and the endgame. Make it like a role-playing game where characters are well-defined but the actions don't depend on the roll of a dice!
3. Have Safe Words
It's important to have safe words that can be easily understood in the high of things. They can as simple as red (you need to stop immediately), yellow (this is getting uncomfortable and you need to slow down) and green (I like this and I want more)! And make it a point to actually follow the commands at all costs!
4. Understand the Dangers
Uncontrolled BDSM activities can do more harm than good. Ensure that you understand the limits of every activity and always respect the boundaries of your partner. Some people only like to use BDSM as an ingredient spice that stirs up the mood. Nothing more than that. Incessant domination or abusive behavior can result in serious injuries!
In the end, everything boils down to this - "With great power, comes great responsibility!"