Even the spiciest of relationships can eventually wane and hit roadblocks. The best way to break the rut in such situations is to use those good old sex toys? Just like sexual positions, there are enough sex toys out there for couples to go all '50 Shades of Grey' over each other.
From the extremely daring to the beginners, there is something for everyone. It's time to have some grown-up fun!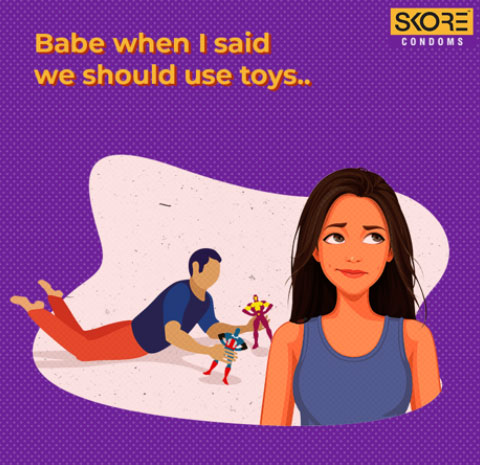 Here's a naughty peek at what awaits in your latest sexual experiment:
1. Bondage Kit
If both of you are open to some BDSM fun, how about increasing the temperature in your bedroom with a beginner's bondage kit? The only prerequisite is to talk about your limits and have a safe word at hand (in case things go out of control)! The idea is to limit your partner's senses with accessories such as blindfolds, rope or handcuffs, making them feel every little touch! Why? Simply because limiting one sense heightens the others! For some, it is definitely an out-of-body experience.
2. Vibrating Ring
A vibrating ring is truly the "One ring to rule them all" since you can both have equal fun with it. It is usually stretchy enough to wrap around a penis, with the vibrations strong enough to travel throughout the shaft! Try teasing the clitoris with the other end of the buzzing vibrator and all hell might break loose (remember, we warned you)!
3. Dildos
Especially those vibrating ones! Nothing beats playing with dildos as an alternative to having sex when women are flying solo. No one knows their body as well as they do, like the exact angles and pressure points to tip them off in the most insane way possible. And to make things even crazier, dildos can even be used while having sex! They come in all shapes and sizes (even colors), so you can easily pick your choice of sexual poison!
4. The Egg
Quite a funny name, given how fragile eggs can be. The best thing about them is, you can just put one in and roam around town like its no biggie. Just one push of the button on its remote and boom! You won't even know what hit you (make sure no one's watching)! What's more? They are small enough to go down ANY hole. Yes, we know what you're thinking.
5. Feature Tickler
Not for the fans of hardcore, this one takes you down an intricate path. It can be the perfect introduction to sensory play for both you and your partner, adding a naughty bit of variety! Use it to tease the flesh of your playmate, with the anticipation of sexual pleasure sending chills up their spine. An ideal erotic entry for any sexual escapade!
Whichever toy you use, always remember this. Its purpose is to enhance the sex that you are already having, not pushing your boundaries beyond your comfort levels!
Happy Skoring!