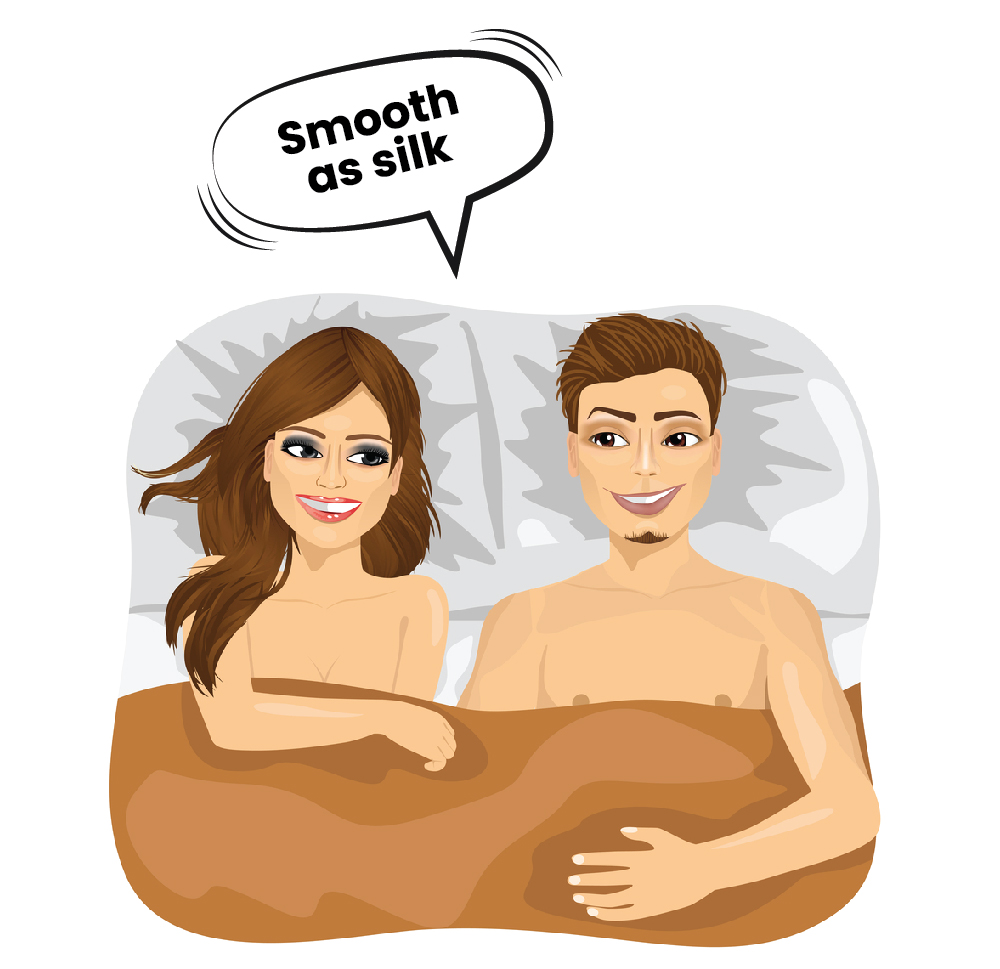 The importance of personal lubricants in modern sexual times cannot be denied. When a woman gets aroused, the vagina works by self-lubricating itself normally, which helps in making the overall experience enjoyable for all. There could be various reasons whyself-lubrication does not happen at all, or to a very small extent. This is generally nothing to be stressed about. But in these cases,personal lubricants help in a variety of ways.
The best personal lubricants will increase arousal, enhance sexual pleasure, and will help keep the vaginal skin soft. And very importantly, it will reduce the friction caused during penetration, thus enhancing the sexual experience by many degrees.
Why use lube?
Lube can be a great way to add to your sexual experience. There is nothing shameful about using it to enhance sexual pleasure and reduce friction. Many women who have no trouble producing plenty of vaginal fluid still like using personal lube to further enjoy the experience.
Post-menopausal women can experience vaginal dryness. About half of them do. Using the best lubricant for menopause dryness greatly reduces the discomfort they may experience during sex. It will also make the sexual experience a lot more pleasurable.
Many women also experience vaginal dryness, even if they are not going through menopause. For them, sexual lubricants for women can be a big help. Understanding that each woman is different is crucial. Some may be menopausal, while some may be breastfeeding. Lube can be a great choice to reduce discomfort and friction during sex and enhance pleasure in many ways.
Men can also use lube to enhance their masturbation experience. Water-based lubes also wash off easily with no residue, so its lessy messy than using the usual lotion or moisturiser.
Different types of lube
With lubes, you have a great many choices available to you. Choose according to your requirements and situation. Let's look at some of the most common types:
Water-based lubricant
These are the most common types of lubes available. They are usually made with or without glycerin. The ones with glycerin are slightly sweet. Here are the pros and cons of water lubricants explained below.
Pros
These are available easily and inexpensively in India. What's more important is that they can be used with condoms and toys safely. Also, they will not stain your sheets and water-based lubes are easy to wash off, which is a big plus point.
Also, water-based lubes rarely cause vaginal irritation. Their shelf life is long as well.
Cons
When you choose a lube that causes a warming sensation or is flavoured, though it may enhance your sexual pleasure, it may be quick to dry. This means that re-applying may be in order. .
Glycerin based lubes
These are available in plenty but may well be stayed away from. They are known to be a cause of infections and sexual problems.
Silicone-based lubricant
If you are looking for a lube that is smooth and slippery and does not have any odour or taste, it is then choosing a silicon-based one can be a good idea.
Pros
This should be the right choice if you need a lube that does not dry out and lasts longer between the sheets. You can use them safely with latex condoms. What's more, they don't mind water at all, which means that you can use them for a steamy shower session. They are also hypoallergenic, which is good news for those who get allergies easily.
Cons
The problem with this type is that they can be a bit difficult to wash off. It will need soap to get rid of after usage. Also, they do not agree with silicone sex toys because they make the latter sticky and gummy in time.
Oil-based lubricants
When looking for sexual lubricants for men, an oil-based one can be an inexpensive choice. This type is safe and accessible easily.
Pros
If you are looking for natural lube, then a natural oil-based choice can be a great option. They are a good choice for all sexual play types and even genital massages. They generally do not cause any problems with the vagina either .
Cons
The main issue with oil-based lube is that it can cause the condom to fail and destroy latex condoms. Toys also do not react well to oil based lubes. Also, they may stain your bedsheets. If you choose a synthetic oil-based lube, it can irritate the vaginal skin and lead to infections.
Things to consider while choosing a lubricant
The sexual experience is personal, and you should choose a lube that works for you and your partner. Choosing one with a pH value that is near to the value of a normal and healthy vagina will be a good decision. It will prevent any itching or discomforting sensation during and after sex.
How to use lubricant effectively?
Here are some pointers to help you:
Put a towel where you plan to engage in sexual activity so that you don't stain the bedsheets.
The lube should be warmed up with the hands before application
Lube is best used as part of foreplay. This releases vaginal fluid and enhances sexual pleasure.
Be liberal while using lube.
It is fine to reapply as and when needed during the action.
Are there any side effects?
The good news is that most modern lubricants that are available are free of side effects. As long as you choose a well-known brand for the same, you will probably not experience any negative side effects.
Conclusion
When you buy lubricant online, your safety and comfort should be the most important thing in your mind. They can be a great way to add more fun and pleasure to a session between the sheets.
Why wait now? Go ahead and tease your partner with the new SKORE flavored and sensation based lubes!
Recommended Products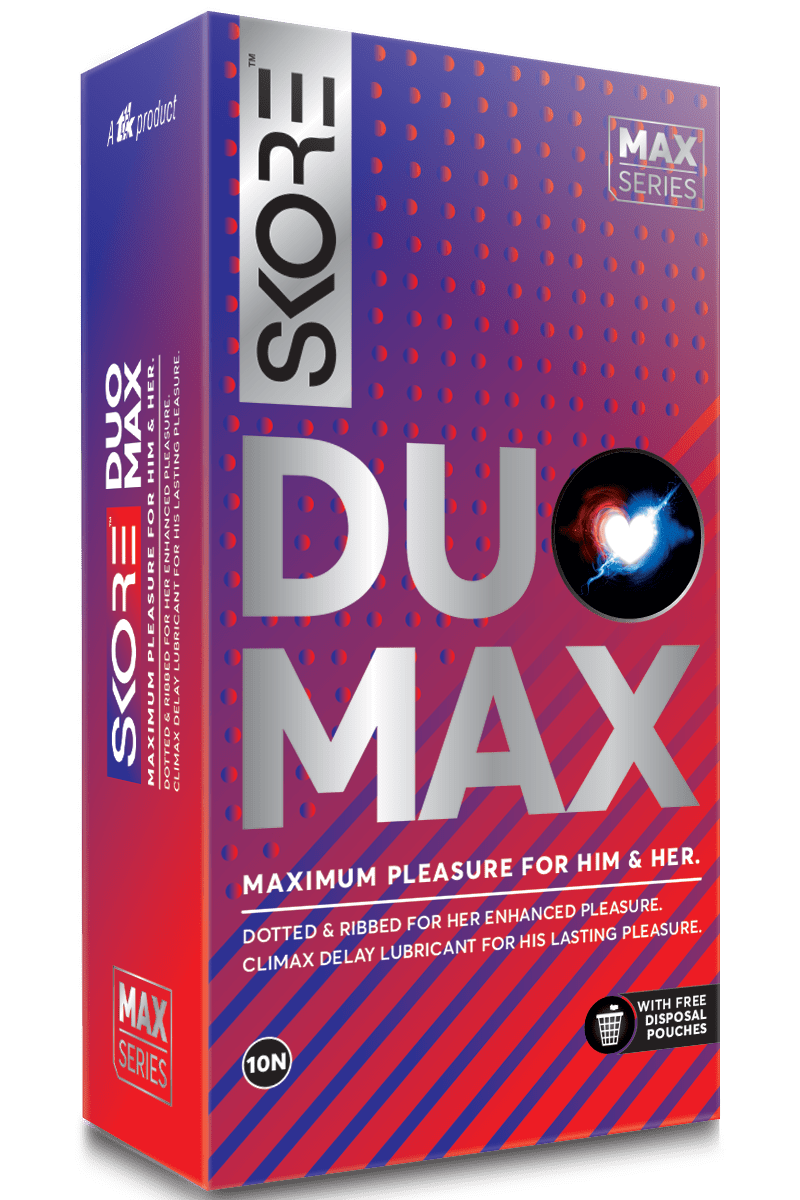 Duo Max Condoms 1 pack (10pcs)

Presenting Duo Max from Skore with climax delay lube for him and dotted & ribbed texture for her. Giving him more time. And taking her less time. For the two of you to experience an all-new sensory explosion together. And what's more, it comes with a convenient disposal pouch that makes it easy-to-use as well as easy-to-throw.