Vybes 1pc and Oh! Gel 15ml 1pc
#GetNaughtier with the all new combo of Skore with Vybes vibrating ring and Pleasure Gel for her.
Vybes 1pc and Oh! Gel 15ml 1pc
This combo consists of 1 Vybes vibrating ring and 1 pc Oh! Gel 15ml
SKORE OH is a water based orgasm gel for woman that creates a multi-sensational experience and brings the most intense orgasm one has ever experienced with the greatest of ease.

The clitoris and surrounding area are the most sensitive part of a woman's body as it has more than 8000 nerve endings. Skore OH when applied on the spot causes one to experience an orgasmic rush of heightened sensations. It feels deliciously stimulating and makes the area more responsive to touch and movement. Once applied, the female partner should start feeling a tingling, warming, and cooling sensation either straight away or within a couple of minutes. The sensations last between five and 20 minutes.

SKORE OH is easy to use. All one needs to do is to squeeze a small amount of it from the detachable pump and onto your fingertips and gently massage on the clitoris. You will feel a tingling and cooling sensation either immediately or after a couple of minutes. SKORE Oh can be used before and during sex. Simply wash off to remove.

04.

How much one should apply?

Skore OH typically contains 15 applications. Just a small amount of the product works wonders. Don't be afraid to use it as many times as you want. Too much of SKORE OH can only mean one thing, and that is a whole lot of orgasms.

05.

Is Skore OH Gel to be applied inside the vagina?

It is not meant to be applied or inserted inside the vagina. Skore OH is a orgasm gel and is meant to be massaged gently on the clitoris, situated at the outer surface of the vagina. If you are still not clear on the exact location of the clitoris, head on to the Naughty Chapters to know more.

06.

Can it be easily washed off?

It is water based and hence can be easily washed off. It is also non-staining and so doesn't leave any stain.
Riya Bharti great for a first time user, easy to use, understand and maneuver with. overall pleasurable first time experience
Aditya nice product combo
Arjun nice set of unisex toys, for both men and women. vibrator lasts for upto 90 minutes, and has about 7 different vibration modes. easy to use for a first time user and oh pleasure gel is a great stimulant for my partner. overall great experience.
Thank You for reviewing us.
How It Works
01

Twist the bottle to open

02

Push down on the top of the bottle with your fingers.

03

Apply onto your intimate areas.

04

Use more whenever you feel the urge.
You May Also Like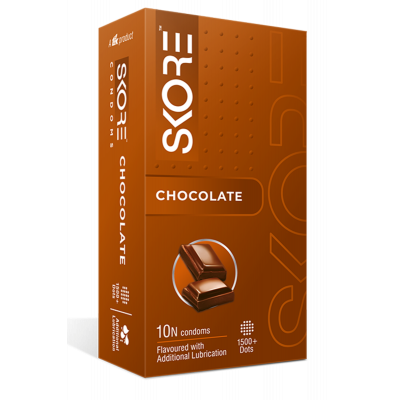 Chocolate Condoms 1 pack (10pcs)

MRP (incl of taxes)
Special Price
₹102.00
Regular Price
₹120.00
Score as you play the game of love with SKORE Condoms. The delicious chocolate flavour and colour seduce and enhance the excitemant. And its dotted texture brings greater sensation to your lovemaking.
#GetNaughtier with the all new combo of Skore with Vybes vibrating ring and Pleasure Gel for her.