Skore Pheromone Activating Spray Hypnos
All new Pheromone Activating Spray from Skore designed to boost your sex appeal.
Pheromone Activating Spray Hypnos 150ml 1 pc
Be the Ladies Man you always wanted to be with the new, special SKORE Pheromone Activating Spray. This sex appeal booster for men contains an active ingredient 'Sensfeel' which is proven to attract sexual arousal in women.
Pheromones are natural chemical compounds that the body produces to transmit certain information about us to others. Animals use pheromones to induce activity in other individuals, such as sexual arousal.

02.

How long will the effect last?

The strongest effect is between people standing within 3?4 meters. Pheromones influence human senses within 7 seconds. Full effect occurs within 30?60 seconds. Pheromones can last for upto 6?12 hours.

03.

What will the spray do?

SKORE Pheromone Activating spray will act as a sex appeal booster. You will still have to go upto the girl you like, smile and strike a conversation. However, this time, you will be smelling great, you'll feel more confident and chances are you will be that much closer to skoring.
love kumar it really good
Thank You for reviewing us.
How It Works
01

Remove cap to open

02

Apply 1-3 sprays on your neck, wrist or chest area.

03

Consider getting a bodyguard.
You May Also Like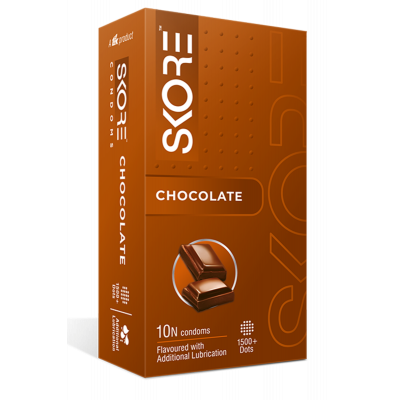 Chocolate Condoms 1 pack (10pcs)

MRP (incl of taxes)
Special Price
₹102.00
Regular Price
₹120.00
Score as you play the game of love with SKORE Condoms. The delicious chocolate flavour and colour seduce and enhance the excitemant. And its dotted texture brings greater sensation to your lovemaking.
All new Pheromone Activating Spray from Skore designed to boost your sex appeal.